Carl Augustus Ross, Jr. (1931-1988) was born in Spring Place, Georgia to Carl and Rosa Smith Ross. Ross received his Ph.D. from University of Georgia in and worked as a History professor at Appalachian State University from 1966 to 1988. He acted as the director of the Center for Appalachian Studies from 1984 to 1988 and taught classes in Appalachian History.
The Carl Ross Papers is a collection of Dr. Carl Ross' academic research and students papers, predominantly from his classes on Appalachian Culture and History. The collection includes a large body of student papers and bibliographies collected from Ross' Appalachian History students, along with a few reports on non-Appalachian subjects. Materials on the Brinegar Cabin, located on the Blue Ridge parkway, include ephemera, blueprints, and transcribed interviews. Academic files include course materials as well as paperwork related to Dr. Ross' position as Director of the Center for Appalachian Studies. Civil War materials include information on Civil War historic sites and living history programs, particularly the reenactment organized by Dr. Ross at Camp Broadstone. Also included are ephemera and notes related to events, lectures, and conferences and Dr. Ross' correspondence and personal files. Research materials are primarily related to the Appalachian Region and include the letters of the Kimbrough Family, 1866-1887, along with a photocopied diary of a Confederate soldier, J. W. Dugger. Photographs include Ross family photographs, historic images of Watauga County, Civil War reenactment pictures, photograph of convicted murderer Lloyd Frazier, and photographs from student papers. Oral history audiocassettes from Ross' student focus on western North Carolina and East Tennessee.
Image from a student paper on "Feuds and Violence in Southern Appalachia" in AC.193: Carl Ross Papers, 1866-1989, undated.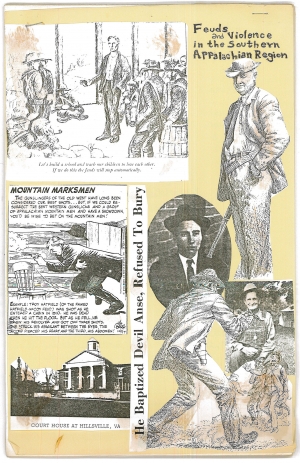 Tags: