Carlton Haney (September 19,1928, Reidsville, Carolina- March 16, 2011, Greensboro, North Carolina) was a noted festival organizer, promoter, and manager in the fields of Bluegrass and Country music. Haney began his career booking and promoting shows for Bill Monroe and the Blue Grass Boys from 1953 through 1955. He managed bluegrass act Reno and Smiley from 1956 until 1965 and collaborated on several songs with the group including "Jimmy Caught the Dickens (For Pushing Ernest in the Tubb)" which reached number 27 on the Country Charts in 1961. From 1956 through 1964 he produced the New Dominion Barn Dance which broadcast on WRVA-AM, Richmond, Virginia.
In 1965, Haney organized The Blue Grass Festival held at Fincastle, Virginia on Labor Day weekend, September 3-5. The event was the first multi-day festival dedicated to Bluegrass music. Among the performers at the festival were Bill Monroe and the Bluegrass Boys, Jimmy Martin and the Sunny Mountain Boys, Clyde Moody, Don Reno and the Tennessee Cut-Ups, Red Smiley and the Bluegrass Cut-Ups, The Stanley Brothers and the Clinch Mountain Boys, Mac Wiseman, and Doc Watson. A highlight of the event was a program called The Story of Bluegrass which reunited Bill Monroe with his former sidemen to reenact his musical career. The festival continued at Fincastle in 1966, then at Berryville, Virginia in 1967 and 1968, before moving to Camp Springs, North Carolina in 1969. Haney went on organize and promote festivals at Gettysburg, Pennsylvania and Escoheag, Rhode Island. In addition to the Labor Day Festival, Haney founded the Newgrass Music Festival at Camp Springs in 1972.
Throughout his career Haney both worked with and managed a number of influential Country and Bluegrass artists including Conway Twitty, Merle Haggard, The Osborne Brothers, Loretta Lynn, Porter Wagoner, Dolly Parton, Ray Price, Kitty Wells, and Norma Jean. He appears as an emcee on two live Merle Haggard albums, Okie From Muskogee (1969) and The Fightin' Side of Me (1970), as well as performing the recitation portion of Conway Twitty's "Papa Sing A Song For Me" (1969). Haney published two magazines for Bluegrass enthusiasts Muleskinner News (founded 1969) and Grassound (1974). His 1971 Labor Day Festival at Camp Springs was captured in the 1971 film Bluegrass Country Soul, directed by Albert Ihde. He was presented the International Bluegrass Music Association's Award of Merit in 1990 and was inducted into the International Bluegrass Hall of Fame in 1998. During his later years Haney stepped away from the music business and ran The Bluegrass Two Market in Reidsville, North Carolina.
Photographs and biographical information from AC.815: Charles and Carlton Haney Papers. The collection was donated by Charles Haney, Carlton's brother and the person who first introduced Carlton to Country and Bluegrass music. Top left: Carlton picking strings while Charles frets a chord, top right: Charles Haney and Merle Haggard, bottom: Carlton Haney at the first Fincastle Festival, 1965.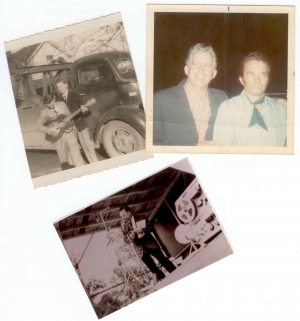 Tags: