This post was originally posted on April 5, 2019.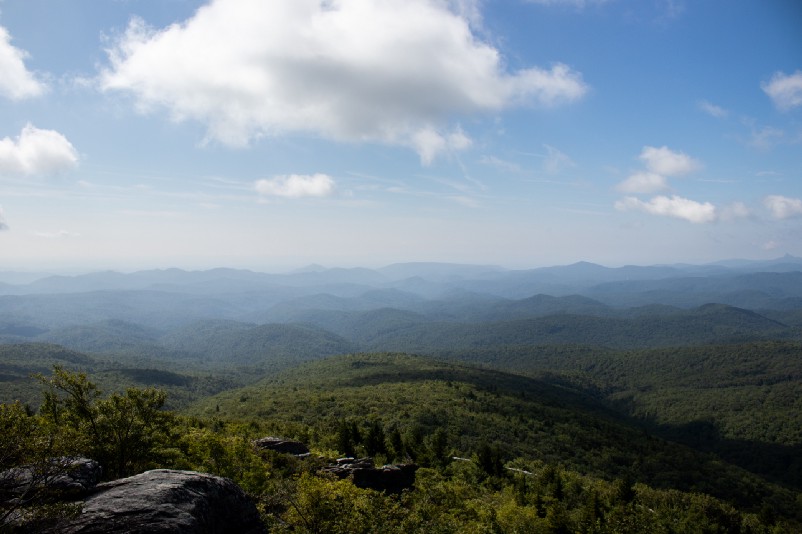 Pictured above is the view from Rough Ridge along the Blue Ridge Parkway. Photo taken by Wyatt Pitsaros.
The Special Collections Research Center is celebrating Appalachian Poets for National Poetry Month. The W.L. Eury Appalachian Collection contains a variety of contemporary and traditional poets from the region. Here is a selection of six poems by six different Appalachian Poets who inspire us.

1. Ron Rash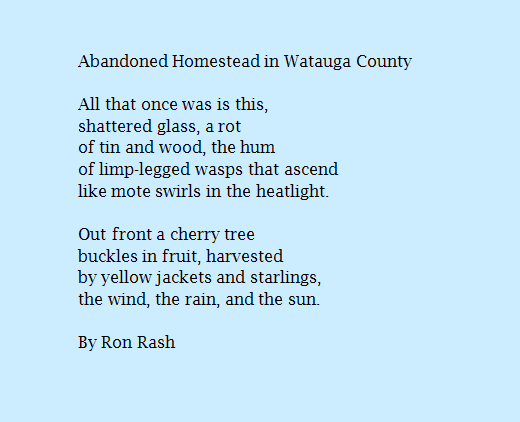 From Eureka Mill, 1998 ASU SPEC COLL APP COLL PS3568.A698 E94 2008
Ron Rash was born in 1953 and grew up in Boiling Springs, North Carolina. He is a southern Appalachian poet and novelist. He graduated from Gardner-Webb University and Clemson University with degrees in English. He has published four collections of poetry, six short story collections, and seven novels. Many of Rash's poems and stories are grounded in Appalachia with imagery, language, and history. He is a bestselling author and has received numerous awards for his work. He currently teaches poetry and fiction writing at Western Carolina University.
2. Melissa Range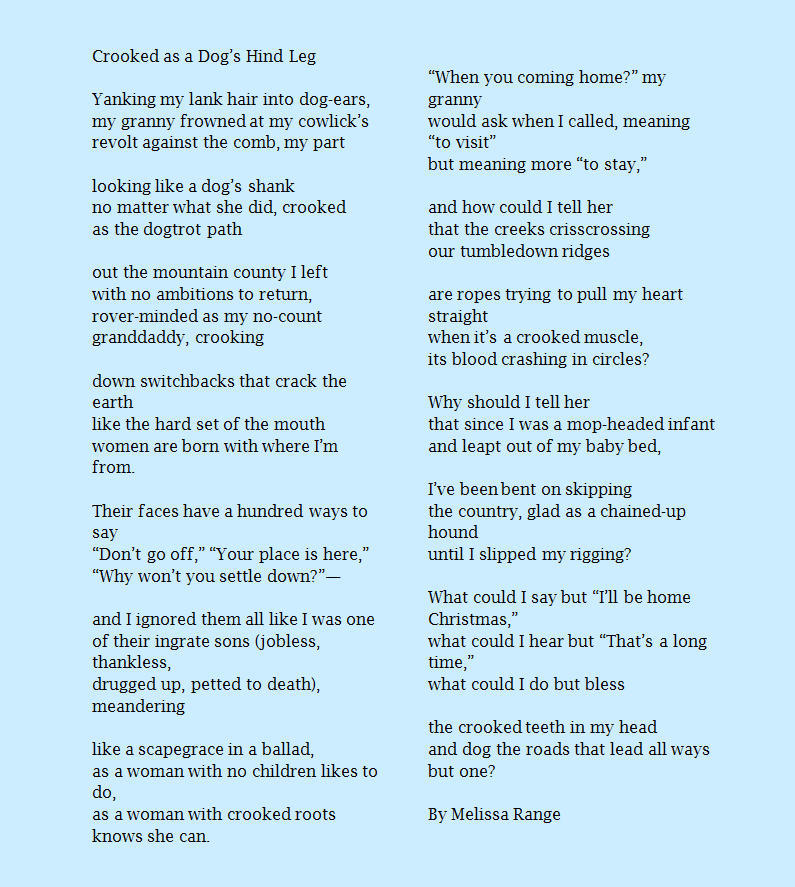 From Scriptorium, 2016 ASU SPEC COLL APP COLL CLOSED PS3618.A646 A6 2016
Melissa Range is poet born and raised in East Tennessee. She got her undergraduate degree from University of Tennessee, Knoxville. She has received many awards for her poetry and has been selected for a National Poetry Series. She is known for her two poetry collections Horse and Rider and Scriptorium. Her work contains imagery to her upbringing in Southern Appalachia along with themes about her identity as an Appalachian woman. She currently teaches English at Lawrence University.
3. Fred Chappell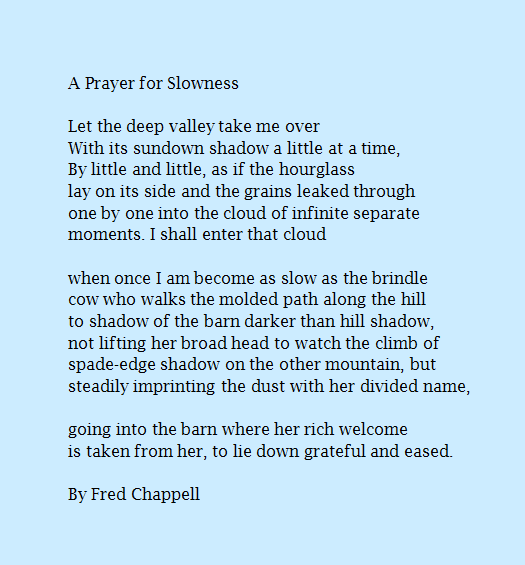 From Southern Appalachian Poetry, 2008, ASU SPEC APP COLL PS 554 .S68 2008
Fred Chappell was born in 1936 on a small farm in Canton, North Carolina. He attended Duke University and has written over a dozen books of poetry. Chappell has earned a variety of accolades in his life such as the T.S. Eliot Prize and the Aiken Taylor Award. He was an English professor for 40 years at University of North Carolina, Greensboro. Additionally, Chappell held the honor of being the Poet Laureate of North Carolina from 1997 to 2002. He is now retired and living with his high school sweetheart, Susan, in North Carolina.
4. Kathryn Stripling Byer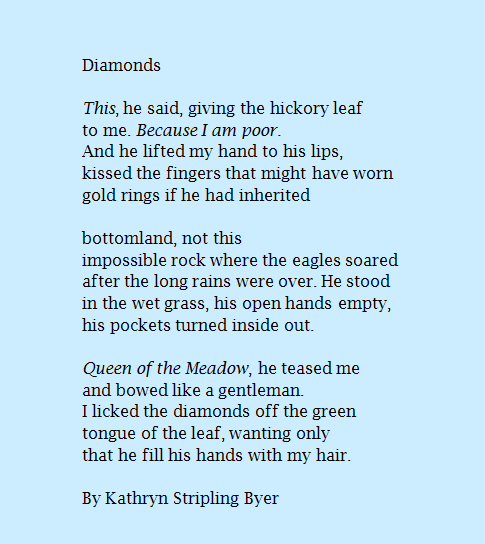 From Southern Appalachian Poetry, 2008, ASU SPEC APP COLL PS 554 .S68 2008
Kathryn Stripling Byer was a poet raised in southwest Georgia. She earned a degree in English at Wesleyan College and then earned her MFA from University of North Carolina, Greensboro. Byer moved to the mountains shortly after her time in Greensboro. She has published six full collections of poetry in addition to several chapbooks. She was named as the fifth North Carolina Poet Laureate by Governor Mike Easley and held the position from 2005 to 2009. She was the first woman to hold this position. She died in June of 2017 from lymphoma.
5. Nancy Simpson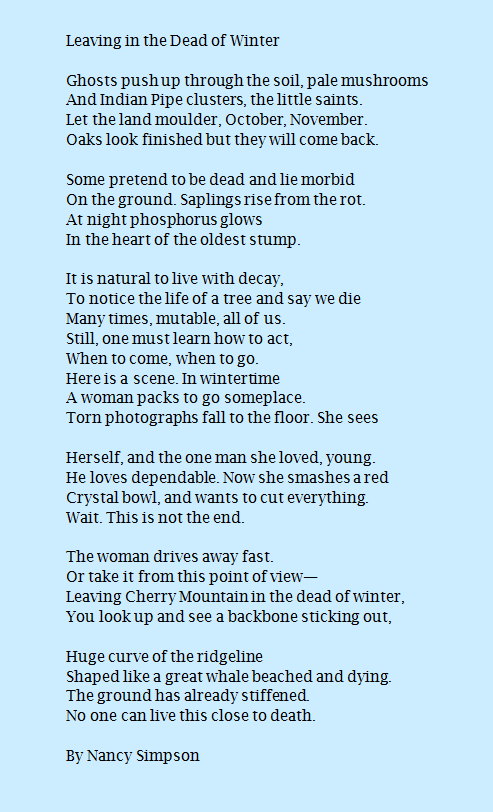 From Southern Appalachian Poetry, 2008, ASU SPEC APP COLL PS 554 .S68 2008
Nancy Simpson was born and raised in Miami, Florida. In 1960, she moved to Western North Carolina with her husband and sons. They settled on Cherry Mountain near Hayesville and lived in a cabin they built. Nancy pursued and earned a B.S. in education at Western Carolina University and soon after began writing poetry. She has since received a plethora of awards and recognition for her work. She passed away in February of 2018.
6. Qwo-Li Driskill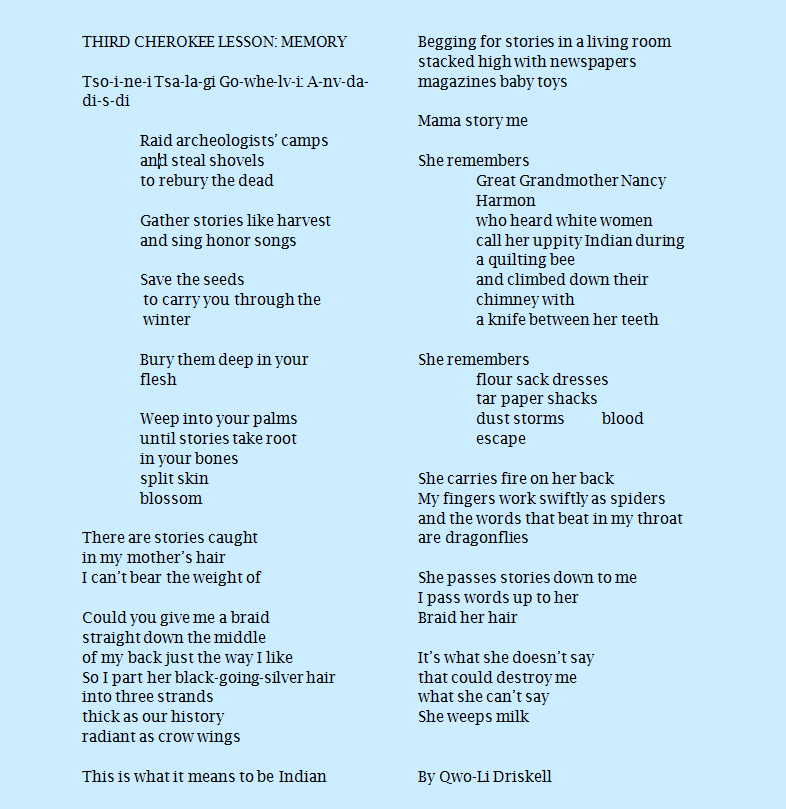 From Walking With Ghosts, 2005, ASU MAIN STACKS PS 3604 .R57 W3 2005
Qwo-Li Driskill is a Cherokee poet, academic, and activist. Driskell graduated from University of Northern Colorado with a BA, Antioch University Seattle with a MA, and Michigan State University with a PhD. Driskell's poetry illustrates their experience with Cherokee Two-Spirit, queer identity, and mixed racial identity. Currently, Driskill teaches Women, Gender and Sexuality Studies at Oregon State University.
To read the collections of these Appalachian poets and many others, visit the Special Collections Research Center at Belk Library and Information Commons, or request circulating books for checkout.
Contributed by Liv Winnicki and Wyatt Pitsaros, former student assistants in reference in Special Collections.