Recently the Special Collection Research Center received a valuable collection; the Daingerfield family papers (AC 1283). These papers contain primary sources on the Daingerfield family artists and their ties to the Appalachian Mountains.
The Daingerfield family has long ties to Blowing Rock, North Carolina. The family relocated to the area after the patriarch and artist Elliott Daingerfield stayed in Blowing Rock after suffering from diptheria in 1886. Edgewood Cottage was his first home and studio. The family went on to build other homes in Blowing Rock. Construction was completed on the estate Windwood in 1890, and Westglow was built in 1916. The family divided their time between the North Carolina mountains and New York City, where Elliott continued to work as an artist.
Elliott Daingerfield was born in Harper's Ferry, West Virginia, and was raised in Fayetteville, North Carolina. In 1880, he moved to New York City to study art. There he met the artist and his mentor George Inness. In 1884, Elliott married Roberta Strange French (1858-1891), who passed away during childbirth in 1891. He remarried in 1895 to Anna Grainger (1868-1939) and had two daughters, Marjorie (1900-1977) and Gwendoline (1904-1982). In 1902, Daingerfield was elected to the National Academy of Design, then taught composition at the Philadelphia School of Design and the Art Students League in New York. He is responsible for the landscape works The Grand Canyon (1912) and Mountain Country (1908), as well as the religious paintings: The Child of Mary, The Holy Family, and The Story of Madonna. Elliott was also a published author who wrote George Inness: The Man and His Art (1911) and other papers and stories.
Marjorie Daingerfield, daughter of Elliott Daingerfield, was born in New York City. She was a sculptor who studied at the School of American Sculpture and the Grand Central School of Art. She lectured at several institutions, including The School of American Sculpture, the Grand Central School of Art, the Mint Museum, Duke University, and the North Carolina Art Association. She is known for sculpting bronze and marble and creating portrait busts, heads, and figures. Marjorie married World War I veteran and lawyer Oliver Ellsworth Holmes (1898-1930) in 1928. Before his death, the couple resided in New York. Marjorie remarried fellow artist James Louis Lundean (1894-1961), known for Western-inspired horse paintings. Marjorie is responsible for works of art such as The Offering. If you would like to view this collection, make a research appointment here.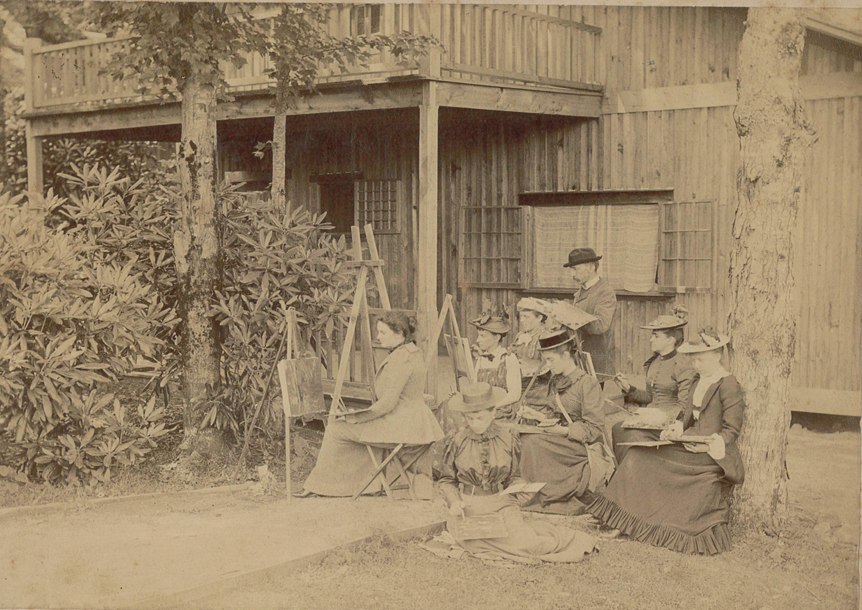 - Submitted by Angela Ocuto Howell, Manuscripts and Archives Processor