"[He] came to Appalachian to spend the day and ended up staying the rest of his life," said Appalachian State University children's literature professor Beulah Campbell about Jesse Jackson (1908-1983). (1)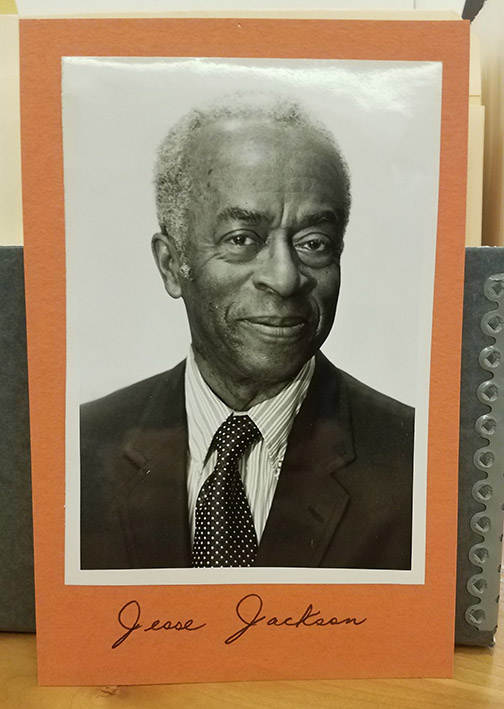 Who was Jesse Jackson? Not the Reverend, in this case. An Ohio native, Jackson was the first author to write about racial prejudice for adolescent readers in his first novel, Call Me Charley, published in 1945.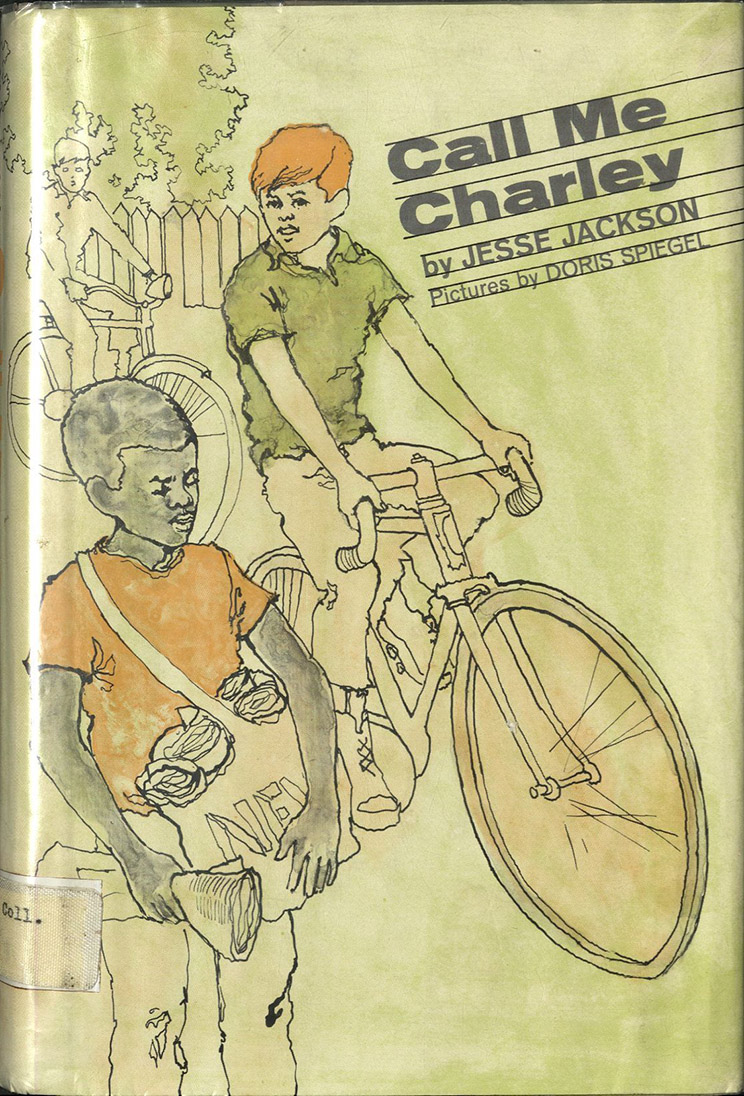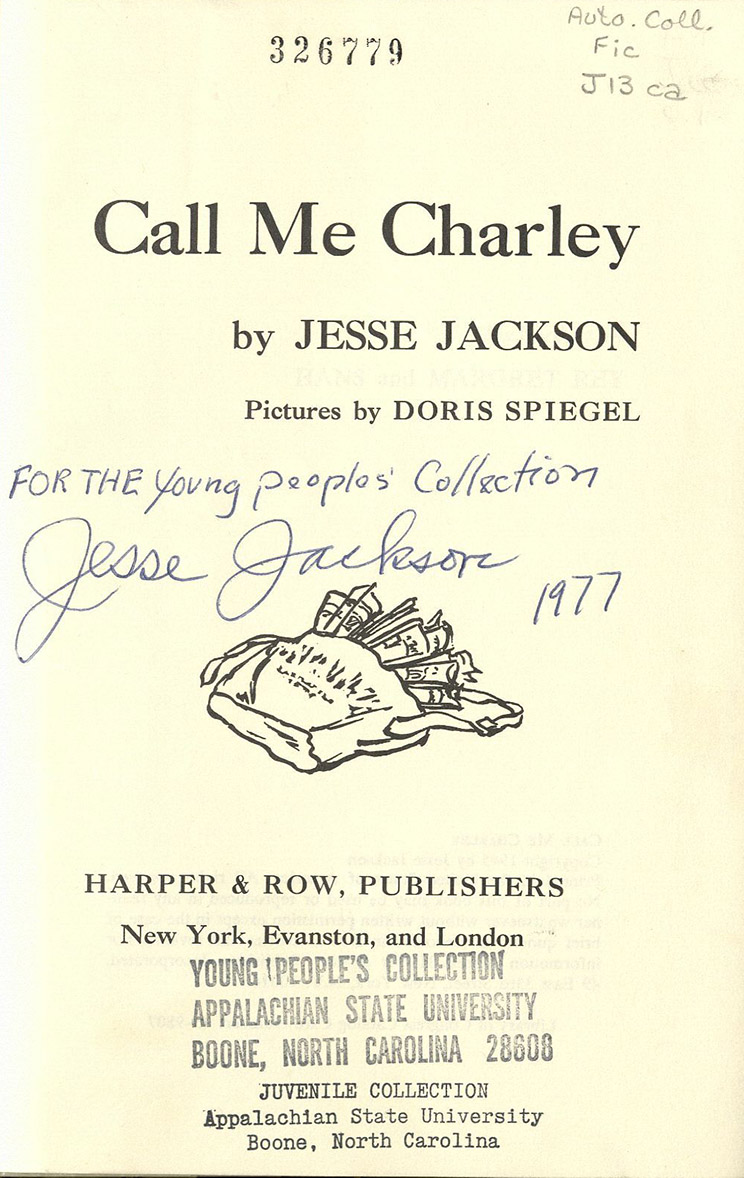 He wrote eight more books, both fiction and non-fiction. His fiction focused on Black children and their relationships with their surrounding worlds. One of his non-fiction books, Make a Joyful Noise Unto the Lord, The Life of Mahalia Jackson (1974), won the 1975 Carter G. Woodson Award given by the National Council for the Social Studies.
While in the later years of his life he was known a successful children's writer, Jackson held a wide variety of jobs not directly related to literature to enable his writing and pay the bills. Several of his experiences influenced his writing. After studying journalism for three years at Ohio State University, he wrote for Ohio newspapers, including one for Black readers. In 1936, he left newspaper work and worked as a probation officer at a juvenile court in Columbus, Ohio. He then held a range of positions at different organizations, including the United States Post Office, the H. Wolff Book Manufacturing Company, and the National Bureau of Economic Research. He produced the majority of his books before visiting Boone for the first time in 1970.
Jackson came to Appalachian State University to participate in the 1970 children's literature conference at the invitation of faculty member Beulah Campbell, and in 1973, he joined the University as a Writer-in-Residence. Over the next ten years, he worked at the University in teaching positions under various titles, including Practitioner-in-Residence in the College of Education (Spring 1974), part-time Associate Professor of Elementary Education and Educational Media (1977), Lecturer in Elementary Education and Educational Media, Graduate Faculty (1979), and Lecturer in Educational Media (1983). In 1982, the University awarded him an honorary degree of Doctor of Humane Letters.
The student newspaper, The Appalachian, shows that Jackson was a popular speaker on campus and in the region during the 1970s and early 1980s. In one article in 1978, he was referred to as "an ASU faculty member and one of the few blacks on campus." (2) On campus, he regularly spoke at the annual Black Expo, a week of events for the campus community to raise awareness about Black culture and activities. In 1979, he even served as a judge for the Miss Black Culture competition. The student newspaper often devoted stories to his perspectives on current events, including his thoughts on whether or not "Black English" should be taught. (He did not think so). (3)
He also regularly presented at the annual Language Arts conference held on campus (now known as the Children's Literature Symposium), sponsored by the College of Education and Belk Library. In the community, he spoke often at elementary and secondary schools, team-taught classes at public schools in Watauga County and in Charlotte and Winston-Salem, and served as a language arts and reading advisor for public schools in northwestern North Carolina. (4)
There is much more to Jesse Jackson than this brief post can reveal. His influence on the Appalachian State University community was significant, and it is best expressed by those who knew him. One tribute to him after his death is this resolution in his memory from the Faculty Senate:
"Jesse Jackson joined this faculty at age sixty-five when most of us might consider retiring. He came as visiting lecturer and writer-in-residence and rapidly began to make his influence felt both here at Appalachian State University and throughout North Carolina. He taught us the value of work and adopted a schedule so rigorous that few of his younger colleagues could match the pace. He was fond of saying that his writing hours between three o'clock in the morning and sunrise were 'the cream.'

He lived among us as a friend, colleague, and wise counsel. In his own quiet manner he touched our lives in a deep and permanent way. He was a master story-teller, a man of wit, and one with apparently endless hours for students.

From Jesse we learned tolerance and gained racial understanding. A corner stone [sic] of Jesse's approach to life came from the lesson of Job -- that faith must remain even when understanding fails. He never grew tired of praising the South for its progress and grew to love North Carolina as a second homeland.

Jesse's departure leaves a void in our midst, yet love and kindness rush in to fill the emptiness; and we are all better human beings for his life among us." (5)
The Special Collections Research Center holds Jesse Jackson's papers, books, and his typewriter in their collections, and they are available for research.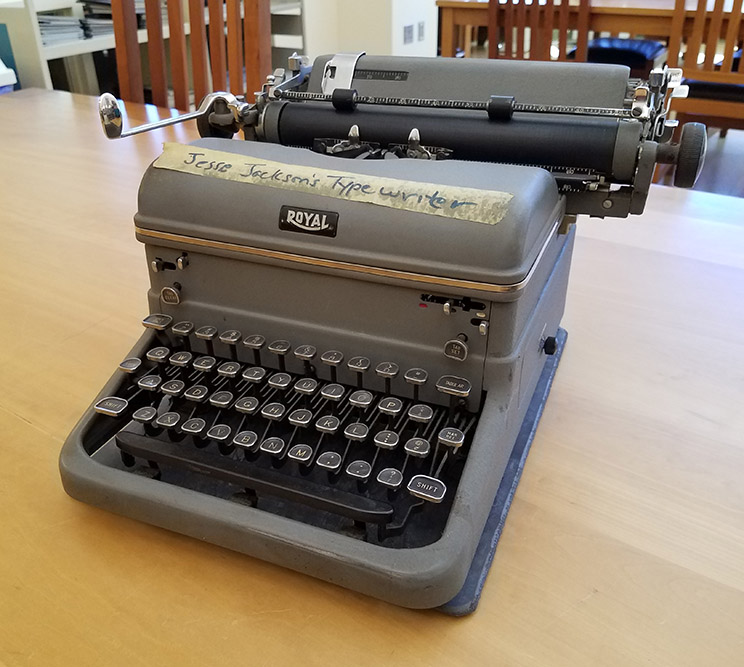 Original illustrations for children's books previously owned by Jesse and Ann Jackson are part of the Beulah C. Campbell Collection, and are available in Belk Library and Information Commons' Digital Collections. Read more about Jackson's donation of illustrations on this page.
Contact us for more information or to schedule a research appointment: spcoll@appstate.edu or 828-262-4041.
Notes:
1. Clyburn, Gay. "Jackson Remembered with Scholarship." The Appalachian (Boone, N.C.) November 8, 1983, p. 3.
2. "Viewpoint: Black History." The Appalachian (Boone, N.C.) February 23, 1978, p. 2.
3. Corbett, Tom. "Black English No Help." The Appalachian (Boone, N.C.) October 30, 1979, p. 7.
4. "Jesse Jackson Comes to ASU." The Appalachian (Boone, N.C.) March 12, 1974, p. 7.
5. Faculty Senate Meeting Minutes, May 9, 1983, p. 1. UA. 5015, University Communications Records, Series I, Box 22, Special Collections Research Center, Appalachian State University, Boone, N.C.
--Blog contributed by Greta Browning, Reference Archivist/Librarian