These letters confirm Private Richmond Hayes' hiring of a replacement to serve in Company E of the 58th North Carolina Regiment of Infantry. They acknowledge Hayes' promise to pay sixteen hundred dollars to Harrison Edmindston to serve in his stead. Edminston paid dearly for his gamble, as recorded in North Carolina Troops 1861-1865:
"Edminston, William H., Private
Resided in Caldwell County and was by occupation a farmer prior to enlisting in Caldwell County at age 41. Enlistment date reported as October 5, 1862; however he is not listed on company muster roles dated January-June 1863. Wounded at Chicamauga [sic], Georgia, September 20, 1863. Reported absent wounded through August 31, 1864. Hospitalized at Charlotte on December 16, 1864 with a gunshot wound (fracture) of the right arm. Place and date not reported (he was probably still suffering from the wound he received at Chicamauga.) Furloughed on December 27, 1864. No further records."
From AC.858: Jack Wilson Coffey Papers and Deeds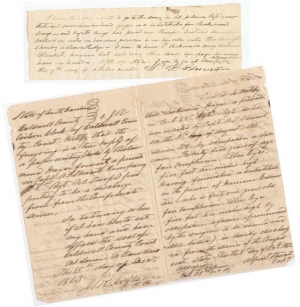 Tags: