The recently processed AC.829: John Alexander Williams Papers consists of research materials, publications, and ephemera compiled by Dr. John Alexander Williams. The collection includes copies of materials dating from the 18th and 19th centuries, copies of academic articles and book chapters, course materials, correspondence, and photographs.
John Alexander Williams [born 1938] received his doctorate in history from Yale University in 1966, having studied with the eminent American historian, C. Vann Woodward. He taught at the University of Notre Dame and the University of Illinois at Chicago before joining the Department of History at West Virginia University in 1972. He came to Appalachian State University as a Professor of History in 1989. Williams directed the Center for Appalachian Studies at Appalachian State for seven years. He is the author of West Virginia and the Captains of Industry, West Virginia: A History, Appalachia: A History, and co-author of Sinking Columbus: Contested History, Cultural Politics, and Mythmaking During the Quincentenary. Many of the research materials for Appalachia: A History are contained within this collection.
Image of the site of Fort Chiswell, once an important trading and military outpost on the Virginia frontier. Much of the original fort now lies under the junction of Interstates 81 and 77. From AC.829 John Alexander Williams Papers.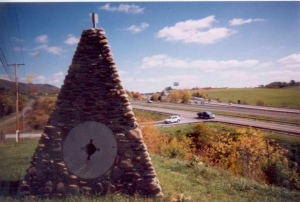 Tags: