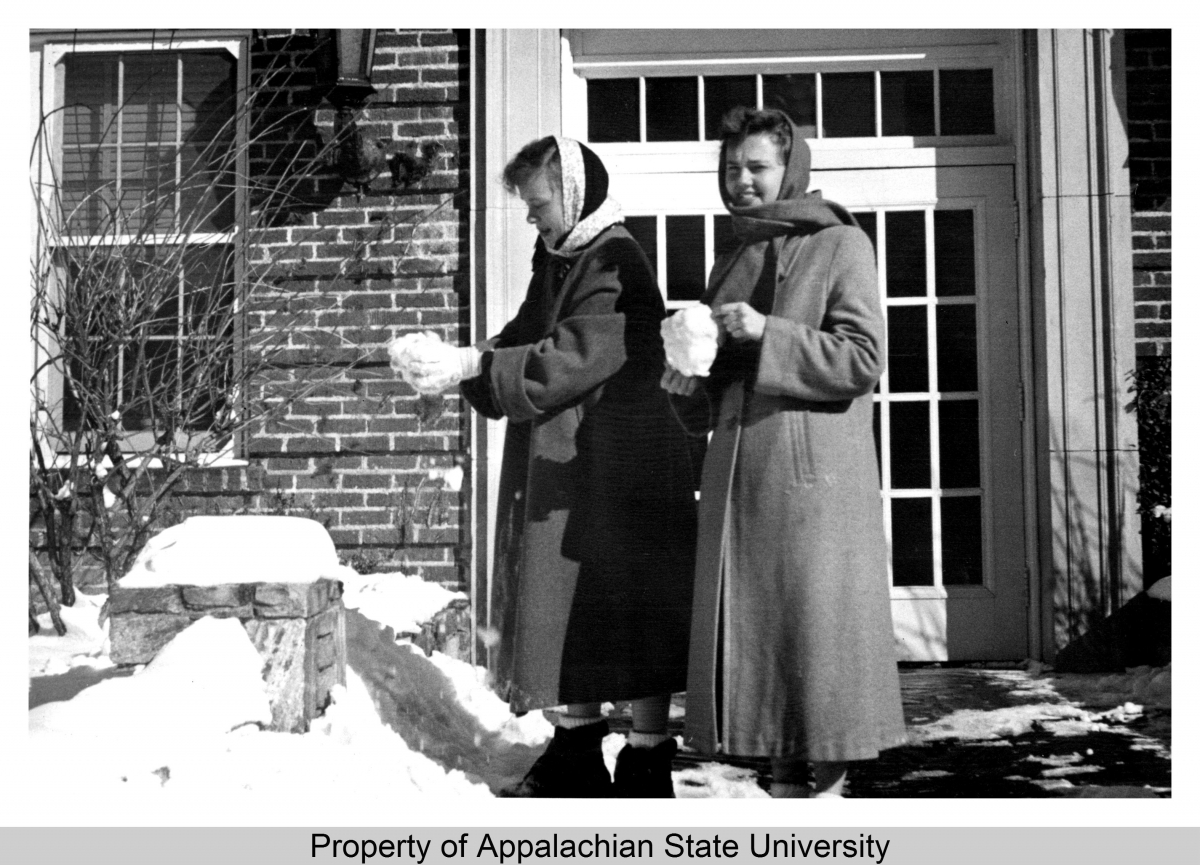 This image shows two students making snowballs after a snowfall at Appalachian State Teachers College (1929-1967) in the 1950s. Two women in winter coats can be seen standing outside what is likely Watauga County Hospital, built 1932 and later renamed Founders Hall, holding balls of snow. (https://omeka.library.appstate.edu/items/show/14383)
This blog feature takes a retrospective look at the history and daily life of the institution which we now know as Appalachian State University through the lens of the archives of its student newspaper, The Appalachian. The Appalachian has been regularly published since 1934, and continues to be an active voice within and from the community of AppState students. Digitized copies of editions of The Appalachian from 1934 through 1998 are available through the Belk Library and Information Commons Special Collections Research Center as a part of its Digital Collections. Browse the available issues by decade here (https://omeka.library.appstate.edu/collections/theappalachian/decade). View the current newspaper at https://theappalachianonline.com/.
February 28, 1936
"Basketeers Take Part In Annual Loop Meet'' was a banner headline at the top of the front page of this week's edition of The Appalachian student newspaper. The feature article began with the summary headers,"High Basketball Loop Tourney to Begin Wednesday" and "Appalachian Phy. Ed. Majors to Officiate; Trophies Awarded Winners." Continued the main body of the story, "(t)he final preparations have been made for the first annual Appalachian High School Association Tournament which will be held in Appalachian's boys gymnasium on March 4, 5, 6, and 7 of next week." According to further reported details, "(a)ccording to sponsors of the association, all Appalachian students will be admitted to any of these contests on presentation of their athletic cards, thus making it possible for everyone to enjoy the sports at the lowest possible cost."
In another type of competition, it was related that, "Friday and Saturday, February 21-22 representatives from Concord State, Emory and Henry, Tusculum, East Tennessee Teachers, Western Carolina Teachers, and Appalachian State Teachers colleges met here on the college campus and participated in the first Mountain Forensic and Speech Tournament and Model League Assembly ever conducted in this section." "Debating, orating, impromptu speaking, and after-dinner speaking were featured on the program," according to the article, "and beautiful silver loving cups served as awards for the winners of each contest."
"Miss Estelle Watson Is Married to T.R. Grayson," noted a front-page item of society news of this same edition of the newspaper. "In a beautiful and impressive ceremony, Miss Estelle Watson and T.R. Grayson were united in marriage at the home of the bride's parents, Mr. and Mrs. B.H. Watson , on Howard Street Saturday morning at 10 o'clock." Details of the ceremony reported that, "(t)he nuptial vows were taken under an improvised arch of evergreens and pink roses. Rev. J.C. Canipe , pastor of the First Baptist Church, officiated, using the rig ceremony." Miss Floye Cottrell was the maid of honor with Murphy Privette acting as best man." It was further noted, "(t)he wedding music was provided by Miss Cottrell before she took her place as attendant to the bride." Honeymoon plans were announced as, "Mr. and Mrs. Grayson left immediately on a trip to Columbia, S.C., and other Southern points of interest."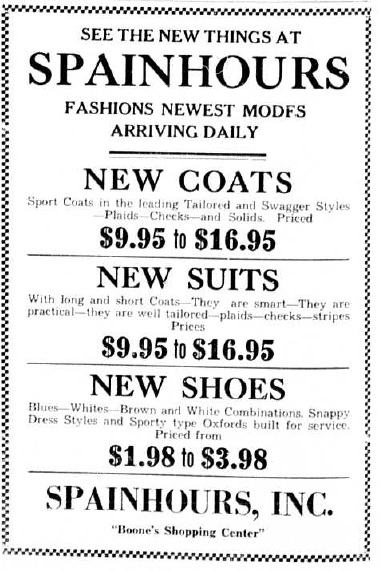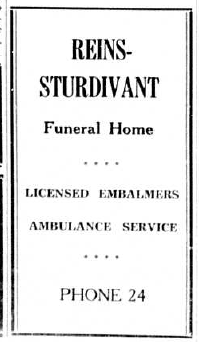 1936 advertisements
February 24, 1956
In this week's issue of The Appalachian, "Shakespearean Play To Be Given Twice" was a banner front-page headline. "A capacity crowd is expected at the College Auditorium on Tuesday, February 28, when Player Incorporated international repertory company from Washington, D.C., presents its greatest comedy success, Shakespeare's MUCH ADO ABOUT NOTHING." According to the feature, "[t]he brilliant wit and high humor of this comic masterpiece have made it an audience favorite since it first launched Players Incorporated six seasons ago. This funniest of Shakespeare's plays boats a first-vote cast, handsome settings, and stunning costumes."
In other news, "U.S. Civil Service Announces Exams," readers learned that, "[t]here is an urgent need for Chemists, Mathematicians, Metallurgists, and Electronic Scientists in the Washington, D.C. area, the United States Civil Service Commission has announced. Vacancies are in various Federal agencies and pay salaries ranging from $4,345 to $11,610 a year." The news item noted that the entry-level and lower-paying jobs required "appropriate education or a combination of education and experience," while "for higher-grade positions, experience is also required." "No written test is required," the text of the story indicated, despite the headline. Those interested were directed: "Further information and application forms may be obtained at many post offices throughout the country, or by writing to the U.S. Civil Service Commission, Washington 25, D.C."
A column on the editorial page entitled "From Here and There" continued the week's Shakespearean theme with a reprint from another student publication, the "Echo" from Minneapolis, Minnesota's Augsburg College (now University); the installment was introduced:
"As a contribution to our second lesson on Shakespeare and Student life, here are some quotes from the 'Augsburg Echo':
Cramming at Midnight:
'Tis now the very witching time of
night,
When churchyards yawn, and
hell herself breathes out
Contagion to this world, now
would I drink hot blood
And do such bitter business as
the day would quake to look
on. -- Hamlet 3.3
Day of First Exam Arrives:
O woe, o woeful, woeful, woeful
day,
Never was seen so black a day
as this;
O woeful day O woeful day. --
Romeo & Juliet 4.5
Emerging from Test
No hat upon his head, his stocking
foul'd
Pale as his shirt, his knees
knocking each other.
And with a look as piteous in
purport
As if he had been loosed out of
hell. -- Hamlet 2.1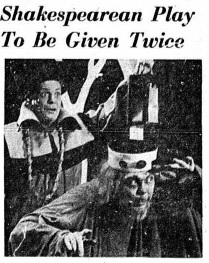 These excerpts and the full text of The Appalachian student newspaper (Appalachian State University, Boone, North Carolina, USA) from 1934 to 1998 are available online at: https://omeka.library.appstate.edu/collections/show/23
Prepared by Ross Cooper, Public Services Assistant