On July 4, 1941, Dr. W. Amos Abrams brought his recording equipment to the Boone Fiddlers Convention to capture the performances of local musicians. Among those attending the event was a teenage singer and guitar player identified by Abrams on his recording as "Mr. Watson," a "Blind Boy." Abrams later recalled meeting Doc Watson at a Duke University concert and offering the noted musician a copy of what is now believed to be his first recording, a gospel song entitled "Precious Jewel."
You can listen to this piece of Appalachian musical history, including Doc Abram's story and commentary on the record, in the digitized W. Amos Abrams Field Recordings Collection by clicking here. You can also access other field recordings and manuscripts produced by Doc Abrams on ballad collecting excursions and at local events, such as the Boone Fiddlers Convention, by clicking here. The Field Recordings section contains streaming audio of early recordings made by Abrams of such performers as Horton Barker, Carl Story, Otis Mote, the Church Family of North Wilkesboro, and Frank Proffitt.
Image from AC.114: W. Amos Abrams Papers, 1884-1984, undated.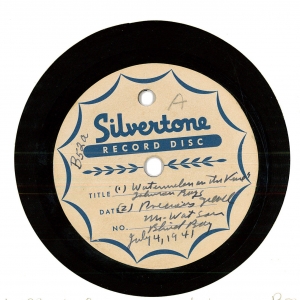 Tags: