Established in 1868 by founder W. A. Lamons, the Lamons Wagon Company of Greenville, Tennessee produced quality wagons suited for "farm, freight, and lumber." The family business spanned nearly a century of production during which the company continued to innovate and expand, simulateously producing a modern rubber tire tractor alongside traditional wagons by the time of the company's close in 1961. The Lamons Wagon Company also played a vital role in the history of education. A 1916 contract with State of Tennessee commissioned the company to produce wagons used to carry children in rural areas to and from school, earning the Lamons wagon the moniker of "The Tennessee School Wagon."
You can find out more about the Lamons Wagon Company by visiting the Dougherty Reading Room and requesting AC.448: Lamons Wagon Company Collection which contains memorabilia from the company including photographs, advertisements, and a broadside announcing its auction in 1961.
Images taken from AC.448: Lamons Wagon Company Papers. Top: Lamons Standard One-Horse Wagon, Bottom: Lamon's Wagon's brochure.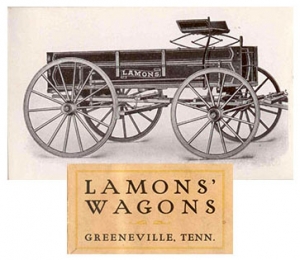 Tags: