Created using the wet-plate collodion process developed by Frederick Scott Archer in 1851, tintypes were the "instant" photography of the 19th century, developed in 10 minutes or less. A far cry from the cell phone snapshots of today! They were popular from 1856 to the 1920s, most commonly seen as studio portraiture, but also as street photography. The following examples come from the Doris Stam collection (UA 47) in ASU's University Archives.
A tintype is a relatively thin wet collodion image on a thin sheet of iron which has been coated with Japan black, a durable lacquer that is baked on. Sometimes tintypes were put in cases, as seen with daguerreotypes, but, more typically, they were placed in paper mats. Tintypes were almost always varnished, most commonly with shellac, to protect the thin, brittle collodion which will oxidize over time if not protected.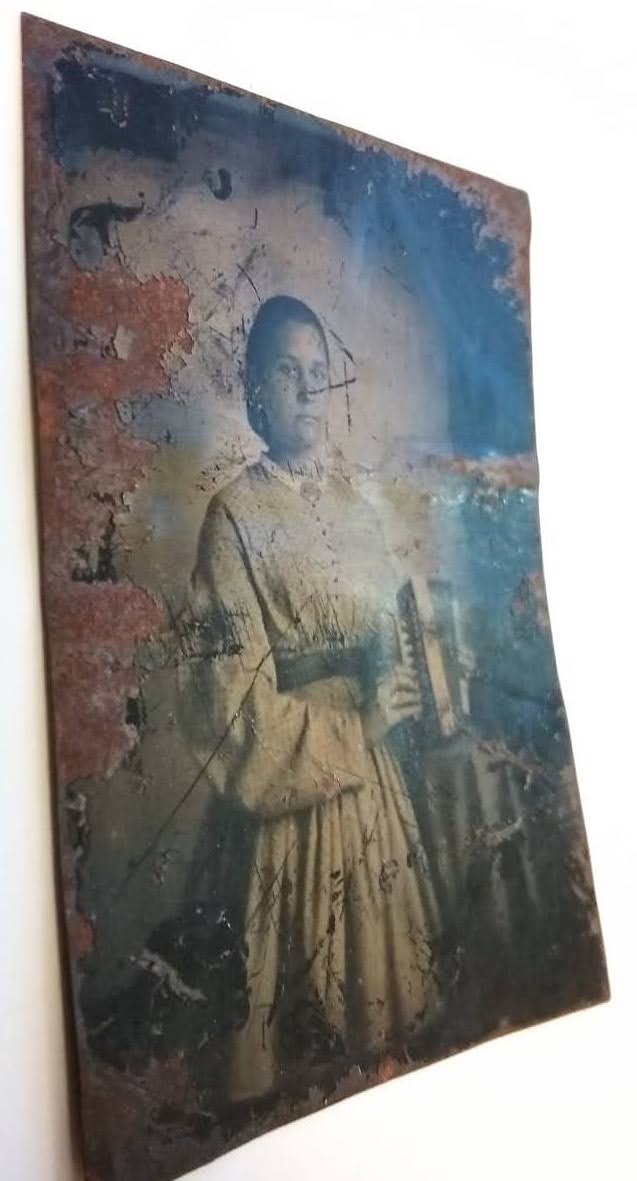 Photo caption: Tintype of Ellen Caroline Bartlett Dougherty, undated.
In the tintype of Ellen Caroline Bartlett Dougherty (1845-1876; mother of Blanford Barnard Dougherty and Dauphin Disco Dougherty), you can see around the edges where the collodion image and Japan black have chipped away to expose the iron to oxidation. Throughout the middle of the image, the Japan black is visible where the collodion has been scratched.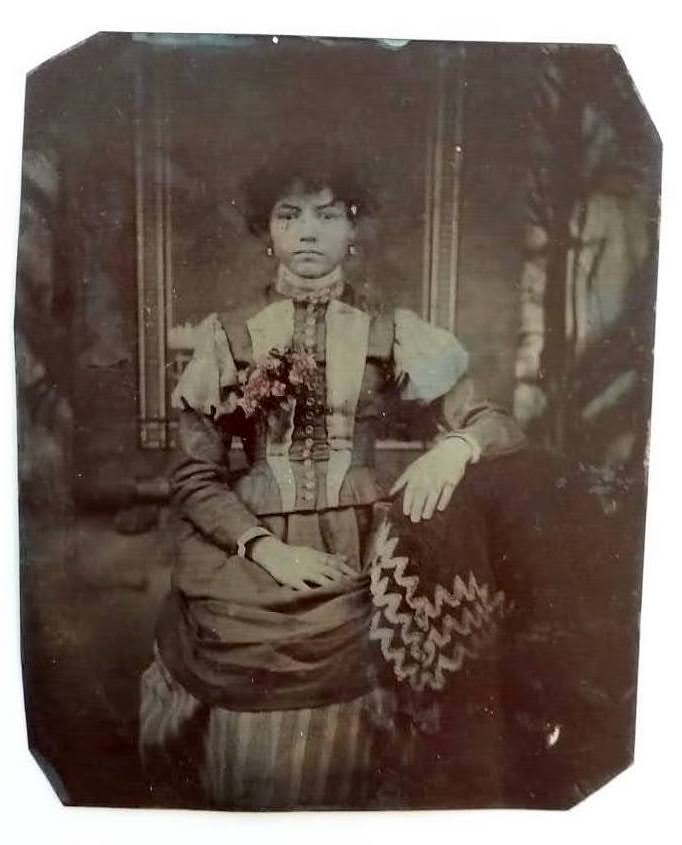 Photo caption: Tintype of Lillie Bell Shull Dougherty, undated.
Lillie Bell Shull Dougherty's (1874-1945) tintype shows the hand-coloring that became common in America to compensate for the monochromatic nature of these images. Notice the light pink tint of the flowers pinned to her chest. Hand-coloring ranged from minimal, as in this case, to full plate coverage with heavy pigment. Dry pigments, watercolors, oil paints, crayons, or pastels were used in hand-coloring to liven up images before the invention of color photography in 1907.
To learn more about tintypes, check out Graphic Atlas, a resource for identification of prints and photographs created by the Image Permanence Institute. Check out this youTube video from the George Eastman Museum to see how tintypes are created.
Contributed by Anna Smith, Archives Processing Assistant