British Studies
The British Studies collections contain published books which date from the 1500s through the 20th century and include four named collections.
Domesday Collection
The Domesday Collection contains secondary source works about the Domesday Book, its place in history, and the time period during which it was compiled. The Domesday Book was a survey of the lands of England carried out by order of William the Conqueror, between 1085 and 1086. The collection was donated by Carl Jackson and consists of the materials he used for his thesis, Determination of manorial value in 1086 Essex County, England (M.A. in History -- Appalachian State University, 1989). Click here for associated titles.
Translation of the Domesday Book is available in selected volumes.
Hulme Collection
The Hulme Collection consists of rare published works relating to 17th century British political history and date from that time and were collected by Harold Hulme. Hulme taught history at New York University from 1925 to 1967, where he specialized in English constitutional history. Hulme's extensive library about English history was donated to Appalachian State University after his death in 1969. The donation was spearheaded by App State history professor Dr. Sheldon Hanft with the support of the History department. A large portion of Hulme's collection is part of the circulating Main Stacks in Belk Library and Information Commons. Click here for associated titles.
Several books in the Hulme Collection have the Hulme motto on the back (inside) of the top cover: "Frangimur sed numquam Flectimur," meaning, "We are broken but never are we bent." Many of Hulme's books were generously restored by Bill and Maureen Rhinehart.
Click here for an annotated bibliography of the Hulme Collection by M. John Higby.
Keefe Collection
The Keefe Collection contains 20th century published works of and related to the records from the Middle English period (1066-1485). It includes many reprints of Pipe Rolls from the English Exchequer or Treasury. The collection belonged to Dr. Tom Keefe. Keefe came to Appalachian State University in 1978 and was a specialist in Anglo-Norman history, achieving a reputation as a scholar of the first rank on both sides of the Atlantic. Click here for associated titles.
Rhinehart Collection
The Bill and Maureen Rhinehart Collection on British History is a continually growing rare book collection of over 1,000 volumes that covers a wide array of topics and time periods. Publications date from the 1500s through the early 20th century. The collection developed from the Rhineharts' personal library. The collection is housed in the Rhinehart Rare Books and Special Collections Room on the 4th floor of Belk Library and Information Commons.
Collection Highlights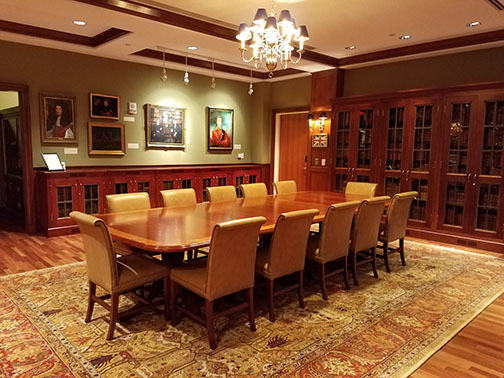 History of Great Britain (over 200 titles)
British Nobility, Aristocracy, and Court
Art, design, and architecture
English Customs
European Royalty
Literature
Military History
Religion
Parliament and Law
Women
Documents, such as correspondence and memoirs
Examples of British book production (binding, typography, printing, papermaking, and illustration)
Bibliographies
The Rhinehart Collection: An Annotated Bibliography is available in three volumes. All three are searchable through the search site box on the Special Collections homepage or individually below. Volumes I and II conclude with author and short title indexes.
Volume I by M. John Higby. Includes initial donation of 2005 and additions from 2006.
Volume II by M. John Higby. Includes additions 2007-2010.
Volume III by Marjon Ames and M. John Higby. Includes additions 2011-2014.
Click here for associated titles. Browse the collection by subject.
General Rare Book Collection
Additional published works related to British Studies can be found as part of the general rare book collection. Of note are the second edition (1587) of Holinshed's Chronicles and Joshua Sylvester's English translation of Du Bartas, His Divine Weeks and Workes (1621). The general rare book collection can be searched in the library catalog Advanced Search using the "ASU Rare Books" location limit.
See additional resources related to British Studies.